---
Laurel Lake's Moscato Sparkling Wine Is
The Perfect Beginning To A New Year
It is out with the old in with the new, as 2015 draws to a close with 2016 to take it's place. New Year's is a wonderful time for new beginnings and fresh starts. So begin your New Year with Laurel Lake's Moscato Sparkling. This unique wine is filled with tropical flavor where the ripe peach and pineapple jump out of the glass.

Moscato blends soft acidity with sweetness, adding to its sipping pleasure. It is ideal after dinner or served with delicious strawberries for your New Year's celebration. It also pairs well with strong cheeses and mildy-acidic fruits. It is available online or in local liquor stores. Start your New Year off with something new and exciting like Moscato Sparkling to commemorate the end and beginning of another year!

Click here to Purchase Online
---
9th Annual Fish & Sips At The Long Island Aquarium & Exhibition Center November 18th
Fish & Sips Wine Tasting Event takes place at the Long Island Aquarium & Exhibition Center in Riverhead. Upon entering, majestic sting rays circle around the ray bay anticipating friendly pats from oncoming guests. More than 20 local wineries participate in this unique event, serving their prominent wines while starfish, king crabs, turtles, exotic fish and sharks swim in the background.
Guests enjoy live music that echoes throughout the aquarium. Savory hors d'oeuvres are graciously passed around including delicious lamb meatballs and crispy spring rolls. Lavish displays of crudité, fresh fruits, exotic cheeses and cured meats can be found throughout the event.
Guests certainly will never feel like a fish out of water at this annual Fish & Sips event. It is an evening filled with exquisite wine, tasty samples, and adventurous aquatic life.

Click Here For More Information
---
An 1863 Thanksgiving Holiday Celebration
An 1863 Thanksgiving Holiday Celebration is at the Old Bethpage Village Restoration Saturday, November 19 and Sunday, November 20. The event returns November 26-27. This historic landmark gives visitors an exclusive and wonderful opportunity to experience a turkey roasted over an open fire, fiddle music and historic legends.
(Pictured is Nassau County Executive Ed Mangano)
---
Five Course Tasting With Wine Pairing
Sage Bistro - Bellmore
Wednesday, Oct 26th @ 7:30pm

Kick-off Autumn with a fabulous five-course wine pairing adventure at Sage Bistro of Bellmore. This award-winning French bistro will be showcasing an array of fall favorites.
The evenings selections include: Chestnut Soup, Savory Tomato Tart Tartin, Sweet & Savory Maple Orange Cornish Hen, Beef Osso Bucco and Pumpkin Mousse. Each course is expertly prepared and paired with a splendid selection of wines to compliment and enhance the flavors of each course.

For reservations call 516.679.8928
Click Here For More The Menu
---
We Celebrated Octoberfest This Year With Some Authentic German Cuisine At Pumpernickel's Of Northport!

There are very few authentic German restaurants left on Long Island and Pumpernickels Restaurant happens to be one of them. This landmark on Main Street in Northport has been around since 1973 and since then has been serving some of the best German-American cuisine Long Island has to offer.

The Weiner Schnitzel a la Holsten, cooked to order and served with Brattkartoffel, also known as German fries, was a delicious meal to try. This authentic dish comes from North Germany and is an incredible smelling entrée. The Weiner Schnitzel was topped with a sunny side up egg creating a very appealing presentation and the crisp breading that coated the cutlet was just scrumptious. The Brattkartoffel were the ideal complement to be served alongside the meat. They were crunchy and quite flavorful.


Another great dish you'll find on the specials menu at Pumpernickels is the Bavarian Platter. This platter offered a Bratwurst and a Chop, served with creamy mashed potatoes and sauerkraut. Both the Bratwurst and the Chop were cooked to perfection and present a nice, smoked flavoring.

---
The World Was Our Oyster At Long Island's Favorite Annual Festival In Oyster Bay!
It was that time of year again when couples, families and friends all converged at Theodore Roosevelt Field Memorial Park on the waterfront in Oyster Bay to experience the Oyster Festival. For its 32nd consecutive year, it continued to draw in thousands of people from all over Long Island. There was something for everyone, but especially for oyster lovers who were able to indulge on 45,000 raw oysters donated by Frank M. Flower & Sons. There was an oyster eating and oyster shucking contest where participants were able to show off their skills and win prizes.
"The world is your oyster" seemed to be true as crowds left a day filled with music, rides, a petting zoo, and seafood galore. The Oyster Festival is held every October so mark your calendars for next year's event in celebration of this mighty mollusk.
---
Southampton Museum Food Event
Lost Foods, New Foods:
Artisan Cuisine & Wines on the South Fork
Thursday, August 25, 2016

This event, which showcased new chefs and food producers who are revitalizing Long Island food by reaching back to the crops, foods and food production of generations past for their culinary creations was part of the Southampton Historical Museum's "Lost Foods, New Foods: Artisan Cuisine & Wines on the South Fork" event on August 25th.
Funds raised through the event, which included a band playing the sounds of the 60s and 70s, light jazz and country music, benefited the many local programs run by the Amagansett Food Institute and Southampton Historical Museum.
The event was held at the Southampton Historical Museum in the Sayre Barn at the Rogers mansion. The Southampton Historical Museum's mission is to preserve and promote the history and culture of the Town of Southampton through education programs for those of all ages.
---
Dan's Harvest East End Wine & Food Classic
Hosted By Geoffrey Zakarian
Saturday, August 20, 2016

Wine connoisseurs rejoiced as the Long Island Council gathered a bevy of the best and brightest winemakers of the East End for this treasured annual celebration of the North and South Forks' wine and food. Hosting for the second year in a row was Iron Chef Geoffrey Zakarian, of Food Network's Chopped, The Kitchen, Top 5 and his newest prime hit, Cooks vs. Cons.
Zakarian, was thrilled to return and be a part of the most tremendous event in Long Island's wine country. More than 40 wineries and 30 restaurants & purveyors convened under a tent at the beautiful McCall Vineyards and Ranch where upwards of 1,500 people attended. The VIP Experience included early admission, premium parking, a VIP gift bag, exclusive access to VIP Lounge and other treats! A portion of proceeds benefited local agricultural foundations.
---
Long Beach International Film Festival
TASTE ON THE BEACH
This Friday, August 5th

Long Beach International Film Festival proudly presented TASTE ON THE BEACH. Taste On The Beach was held on Friday, August 5th on the Beach in Long Beach in conjunction with the Long Beach International Film Festival's star studded Shorts On The Beach Film Series.
We hope that you were able to join us for the wonderful cause of helping the less fortunate on Long Island. A portion of the proceeds of this event benefited The Inn at Long Beach.
Taste On The Beach provided the unique atmosphere to enjoy a wide variety of local & regional culinary creations, wine tastings, craft beer tastings, & more - All on one of the most pristine and beautiful beaches along the Atlantic Ocean.
---
Planting Fields Foundation's 8th Annual Champagne Party At Historic Coe Hall

As guests made their way to the mansion courtyard, they were greeted by a champagne and cocktail station with beautiful flower arrangements abound. We enjoyed a plentiful cocktail buffet, desserts, champagne, sangria, craft beer and Motown music! Guests danced the night away under the stars to live music with the energetic and full-of-life Motown sound of the city "City Sounds Music Experience".
The band included second-to-none live performances that encouraged audience participation.
---
Foodies Flipped Over Dan's Taste Of Summer:
The East End's Premier Four-Part Series Of Food And Wine Events Was A Hit As Usual!

With back-to-back events, the first weekend of Dan's Taste of Summer was one for the books. This fabulous series of foodie favorites kicked-off Friday July 22nd with Dan's GrillHampton hosted by Travel Channel's Adam Richman. We hope you made it there for the GrillHampton East End chefs vs. NYC chefs' one-of-a-kind cooking competition and tasting event. We enjoyed the great grilled fare, beer and specialty cocktails, then we were part of the action as we casted our votes for the finest food of the night.
The following night, Katie Lee, Celebrity Chef and co-host of Food Network's The Kitchen joined Iron Chef Alex Guarnaschelli at Taste of Two Forks. This annual favorite continued to proudly spotlight the bounty of both the North and South Forks, featuring bites from top restaurants, sips from celebrated wineries and breweries, noshes from purveyors and more.
This year, guests experienced a whole new level of luxury as the event moved to a new location: the gracious, sprawling waterfront property of Fairview Farm in Bridgehampton.

---
4th Annual Dan's GrillHampton
Hosted By Travel Channel's Adam Richman
Friday, July 22, 2016

It was a sizzling battle between Manhattan and East End Culinary Titans, Hosted by Travel Channel's Adam Richman, Host of Secret Eats with Adam Richman and Man Finds Food, as well as author of "Straight-Up Tasty".
Top restaurants from NYC and the Hamptons battled it out for both Judge's and People's Choice Awards.
Notable newcomers included Topping Rose House by Jean-Georges Vongerichten, Shake Shack, Speedy Romeo, Grey Lady Montauk, First and South, Black Tap Craft Burgers and Beer, White Gold and Altamarea Group by Michael White.

---
Dan's Taste Of Two Forks - Saturday, July 23, 2016
Co-hosted by Iron Chef Alex Guarnaschelli & Food Network Star Katie Lee




Dan's Taste Of Two Forks showcased the best restaurants, wineries and purveyors for the East End's most food centric crowd! The event was co-hosted by Alex Guarnaschelli, Iron Chef and Judge on Food Network's Chopped and Katie Lee of Food Network's The Kitchen and Cooking Channel's Beach Bites with Katie Lee.

This event featured stellar cuisine from over 40 of the finest restaurants on the East End, including Topping Rose House, The Greenwich, Union Cantina, Navy Beach, Scarpetta Beach, 668 The Gig Shack, East by Northeast, Estia's Little Kitchen and more!
The band In The Groove energized the crowd with live tunes all night long. Taste Of Two Forks was a sellout event with a portion to this year's ticket sales benefiting All For The East End, an organization whose goal is to generate significant new and creative sources of funding and organizational support for the not-for-profit organizations of Long Island's East End townships.
---
Dan's Clambake MTK at Gurney's - Saturday, July 30, 2016 Co-hosted by:
Food Network's Marc Murphy & Cooking Channel's Eden Grinshpan


Dan's Clambake MTK, the inaugural oceanfront food and drink festival at the legendary Gurney's Montauk Resort & Seawater Spa, invited you to sink your teeth into surf and turf from the ultimate East End restaurants. We celebrated the beach life, coastal cuisine and everything that makes Montauk the hottest destination of the season on the East Coast. Returning to Dan's Taste of Summer was Chef Marc Murphy, Judge on Food Network's Chopped, Benchmarc Restaurants (Landmarc + Ditch Plains), Kingside, Grey Salt and author of "Season with Authority: Confident Home Cooking," who was joined by Eden Grinshpan of Cooking Channel's Eden Eats, to co-host this beachy-chic affair. Guests ate, drank and mingled under the stars for what was one of the most quintessential night of summer.

The evening was enhanced with Dan's Clambake MTK's VIP After-Party at Gurney's Montauk where a live DJ spun the hottest records of the year over gourmet late-night food and drink. We danced the night away and enjoyed refreshing craft cocktails shaken from the best mixologists around. VIP After-Party guests enjoyed exclusive perks and treats for a truly unforgettable summer weekend.
---
Live Music All Summer Long
At Nicky's On The Bay
Nicky's on the Bay is a casual restaurant located in the Bay Shore Marina. Here you are by the beautiful views of the Great South Bay as well as the Bay Shore Marina. When you travel by boat the docking fee is refunded from your check and you can even gas up at their dock. Nicky's is the perfect place to stop by before or after a day on the bay.
Outdoor dining is a quintessential summer treat on its own, but combined with breathtaking views and live music creates a whole new dining experience.
150 South Clinton Ave, Bay Shore Marina, Bay Shore, NY 11706
Phone: 631.206.3311
---
Spectacular Sunsets And Breathtaking Waterviews At Fisherman's Catch
Fisherman Catch is an award winning restaurant in Point Lookout that offers incredible waterviews along with fabulous food. You can travel by boat, dock right outside the restaurant and dine al fresco! A large majority of all the seafood served here comes straight from their ships to your lips! Come enjoy their fabulous food while watching the boats go by on the waters of Reynolds Channel.

111 Bayside Dr. Point Lookout, NY 11569
Phone: 516.670.9717
---
Event Of The Year:
2016 Long Island Hospitality Ball
Monday, June 27th, 2016
This year's Annual Long Island Hospitality Ball was held at the beautiful Crest Hollow Country Club. Proceeds of this year's event benefited the Carol M. Baldwin Breast Cancer Research Fund with Alec Baldwin as host. Guests were invited to experience exclusive food, wine and spirits, prizes and much more.
Continuing at the heart of the affair was Keith Hart, who is best known for his eponymous marketing agency on New York's nightlife and entertainment scene. His private battle with thyroid cancer, now in remission, inspired him to go public with his mission and rally the industry to join the fight against cancer through an extraordinary evening of dining, dancing and donating.
For more information call 631.752.1053 or
Click Here To Visit The Long Island Hospitality Website
Click Here To Read About Last Year's Event
---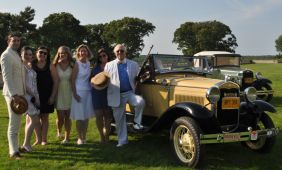 OHEKA Garden Party
Friends Of OHEKA
OHEKA Castle
Wednesday, June 8, 2016
5pm - 8pm
Honoring our 2016 Humanitarian Caroline Monti Saladino Philanthropist, Visionary and President of The Don Monti Memorial Research Foundation and also honoring The Otto Kahn Awards Program scholarship winners. Wine, Hors D'oeuvres, Buffet Dinner, Live Music and More. This event was hosted by Friends of OHEKA, Inc., a non-profit organization dedicated to the protection, preservation and public awareness of OHEKA CASTLE. Call 631.367.2570 for information about next years event
---
Show Mom Your Sincere
Appreciation This Mother's Day
Mother's Day is Sunday, May 8th and if gourmet cooking isn't your forte – let your favorite restaurant do it for you! This is your chance to treat Mom right after everything she's done for you, so stop scrambling for ideas; we have you covered.
If Mom loves French cuisine, we can recommend
three great places to treat her taste buds. Aperitif in Rockville Centre, Sage Bistro in Bellmore and Sage Bistro Moderne in Woodbury. All three restaurants ensure a spectacular Mother's Day dining experience that you, mom and the rest of the family will love!
Rialto Restaurant in Carle Place is the perfect Mother's Day destination if Italian cuisine is what Mom desires. They present a pleasantly cozy atmosphere and the dining room's subdued lighting sets the tone for a relaxing evening. Another elegant Italian Restaurant is Galleria located on Post Avenue in Westbury. Their fabulous selection of authentic Italian cuisine is sure to make mom feel special.

If you really want to spoil your mom this Mother's Day take her to Grasso's -Long Island's finest supper club- and enjoy live jazz. She'll be enchanted by this classy restaurant in Cold Spring Harbor. Not only do they have mouthwatering cuisine, but the music performed by renowned musicians is sure to impress!
Remember to make your reservations and place your orders early before Mother's Day! There are a number of great places across the island to take Mom to this year and we've mentioned a few above. But as for the card and flowers? Sorry, you're on your own!
---
Celebrate St Patrick's Day With Irish Flare
St Patrick's Day has become a wonderful celebration that brings out the Irish in all of us. It is a part of tradition to enjoy Irish soda bread, corned beef and cabbage, and a hearty libation with family and friends. With festivities beginning March 17th and lasting throughout the weekend, there are plenty of restaurants getting into the Irish spirit with traditional cuisine and drink specials.

McQuade's of Lynbrook is a delightful bar and grill that will be offering a special Irish menu along with fabulous Irish music to commence the merriment. Their festivities will continue as McQuade's invites everyone to celebrate their 8th anniversary beginning on Thursday, March 17th through Saturday, March 20th.

McQuade's: 275 Merrick Road Lynbrook, NY
Phone: 516.256.2820
Website: McQuade's
---
Top Romantic Restaurants To
Wine And Dine Your Valentine

Valentine's Day is approaching and love is in the air! Make this romantic holiday special for you and your sweetheart this year with a fabulously intimate dinner
for two at one of Long Island's romantic restaurants.
Nothing says romantic like an exquisite dinner at a fine restaurant. La Marmite of Williston Park offers
an enchanting ambience and delectable cuisine ideal for Valentine's Day. Executive Chef Greg Kearns will
be offering a special Valentine's menu that includes a number of spectacular items like Lobster Carbonarra, Seared Pink Snapper, and Roasted Sirloin Steak. To complete the romantic package, there will be live music Valentine's Eve and Valentine's Day to make it a lovely weekend you and your honey will fall in love with.
Sage Bistro Moderne in Woodbury offers some of Long Island's finest French cuisine. The chic ambiance of this restaurant surely sets the tone for romance. Their superb French menu
includes a variety of specialty items you and your date can share including the delicious Fondue
---
Laurel Lake's Moscato Sparkling Wine Is
The Perfect Beginning To A New Year
It is out with the old in with the new, as 2015 draws to a close with 2016 to take it's place. New Year's is a wonderful time for new beginnings and fresh starts. So begin your New Year with Laurel Lake's Moscato Sparkling. This unique wine is filled with tropical flavor where the ripe peach and pineapple jump out of the glass.

Moscato blends soft acidity with sweetness, adding to its sipping pleasure. It is ideal after dinner or served with delicious strawberries for your New Year's celebration. It also pairs well with strong cheeses and mildy-acidic fruits. It is available online or in local liquor stores. Start your New Year off with something new and exciting like Moscato Sparkling to commemorate the end and beginning of another year!

Click here to Purchase Online
---
Chef Robert Irvine Of Restaurant Impossible Fame Live At The Paramount In Huntington

In this all new show, the audience chose the challenge! How? The digital challenge wheel! The audience spun a digital wheel, which was incorporated into the screen projection to choose everything from time limits to ingredients to the challenge itself. Anything was possible.
The amount of audience involvement had gone up. Way up! Depending on the challenges chosen for the evening, up to 30 people were able to be called onstage to participate.
Food Network star Robert Irvine took his brand of no nonsense cooking on the road, but this time he wasn't the only star of the show. This all new multi-media and multi-sensory event featured never before seen interviews, cooking challenges, Q&A and a whole heaping of audience participation! Robert had no knowledge of the culinary challenges he was about to receive, and he needed your help to conquer them. No recipes. No script. No holds barred. It waslike nothing you've ever seen on stage before. You chose the challenges. He did the impossible.
---

9th Annual North Fork Craft Beer Festival

The 9th Annual Award Winning North Fork Craft Beer Festival at Calverton Links Golf Course was held Saturday, August 8, 2015. This event showcased the finest national and international craft breweries - more than 50 in all. This perennial favorite boasted a great selection of food trucks, sure to satisfy every craving and pair well with the craft beers. Trucks offered a variety of food options for sale - from pulled pork and ribs, to crab cakes and gourmet sliders. Pictured above is Brockenzo's fabulous wood-fired Neapolitan pizza.
---
Planting Fields Foundation's 7th Annual Champagne Party: A Totally Awesome 80s' Party!

Let's Dance at the 7th Annual Planting Fields Foundation's Champagne Party. This year's theme was the 80's so guest dressed in their best leg warmers, biggest hairdo, and muscle shirts to get into the groove. Once again, the event was held at the beautiful gardens at Coe Hall where guests indulged on a cocktail buffet catered by Jeff Lawton Events with plentiful hors d'oeuvres, savory desserts, champagne, wine, sangria and craft beer. Entertainment was be provided by Tommy's Tunes.
(Pictured Is The 6th Annual Champagne Party)
Click Here To Read More About This Year's Event
---
Dan's Taste Of Two Forks Was Truly
A Foodie's Dream Come True
Saturday, July 18th, 2015

Dan's Taste Of Two Forks is a yearly extravaganza hosted by America's Top Celebrity Chefs and held in one of the most beautiful parts of Long Island, the Hamptons. Celebrating five years as the East End's leading summer food soiree, Taste Of Two Forks continues to proudly spotlight the bounty of both the North and South Forks, featuring bites from dozens of top restaurants, sips from celebrated wineries and breweries, purveyors and more.
Taking their hosting duties from the small screen to the Hamptons, first-time co-host Iron Chef Michael Symon of ABC's The Chew joined returning co-host, The Kitchen star Katie Lee, to offer their support for this driven community.


This years event honored restauranteur, author and lifestyle maven B. Smith, for her dedicationto dining in the Hamptons and Manhattan, as well as the country through her role with the American Chef Corps. Live music energized the crowd as they watched the sunset from inside the elegent tent and VIP ticket holders had ample space to relax and indulge in a private lounge filled with oysters, specialty drinks and other exclusive perks.
In addition to the dozen of restaurants that participate each year, Taste Of Two Forks also showcased an abundance of local artisanal purveyors that help make the East End a true foodie find. Taste Of Two Forks was a sellout event with a portion to this year's ticket purchase benefiting All For The East End, an organization whose goal is to generate significant new and creative sources of funding and organizational support for the not-for-profit organizations of Long Island's East End townships.
---

3rd Annual Dan's GrillHampton
Presented by Pat LaFrieda

It was Team Hamptons vs. Team NYC as the 3rd Annual GrillHampton pitted 8 East End chefs against 8 Manhattan chefs in a one-of-a-kind cooking competition and tasting event. This event has become the area's who's who of grillmasters and has once again pulled talent from both NYC and the Hamptons to vie for the winning title.
Restaurant Impossible star Robert Irvine was back to oversee the evening's festivities and was joined by chef Marc Murphy, celebrity judge on Food Network's Chopped, to judge this fantastic competition. Each attendee also became a part of the action as they casted their vote for the finest food of the night.

---
Enjoy National Tequila Day At
Caracara Mexican Grill!

National Tequila Day was Friday, July 24th and what better place to celebrate than at an authentic Mexican restaurant? Caracara, located on Main Street in Farmingdale, offering a wide variety of authentic Mexican dishes and great drink specials, making this restaurant a great destination to celebrate the delicious spirit of Tequila we all know and love.
Click Here For Website
---
Celebrate Bastille Day The Authentic Way
Bastille Day is a French National Holiday celebrated on July 14th each year. Formally known in France as La Fête Nationale, this holiday commemorates the storming of the Bastille, which occurred July 14, 1789.
Amongst the many restaurants celebrating Bastille Day this year, we would like to mention two fantastic, authentic French restaurants –Sage Bistro Moderne in Woodbury and Aperitif in Rockville Centre. In honor of this French holiday, they are offering a special menu with fabulous cuisine. Be sure to visit one of these locations to enjoy their delicious French dishes in celebration of Bastille Day!

Click Here To View Menu

---
Fourth Annual Vanderbilt Clam Bake
At The Vanderbilt Museum In Centerport

The Fourth annual Vanderbilt Clam Bake was held at the historic Vanderbilt Museum on Saturday, July 18th at 6pm. Guests enjoyed an evening of delicious food, music and dancing under the stars at the beautiful Vanderbilt estate overlooking Northport Bay. The menu for the evening included whole steamed lobsters, clams, mussels, clam chowder, BBQ chicken, burgers, hot dogs, roasted potatoes, corn on the cob, wine and beer. Admission to this annual fundraising event is $100 per person, which helps support the museum's various education programs.

Call: 631.854.5579 Address: 180 Little Neck Road Centerport, 11721
Click Here For Website
---
11th Annual "A Hamptons Happening"

The 11th Annual "A Hamptons Happening" was held Saturday, July 11th at the beautiful estate of Maria and Kenneth Fishel for the fourth year in a row. You wouldn't have wanted to miss the event of the season that featured an array of artisan delicacies from Long Island and Manhattan's finest restaurants. This year's event honored Marc J. Leder, Co-ceo, Sun Capital Partners, inc. and Bobby Zarin, Zarin Fabrics. Guests were invited to indulge in divine culinary delights at the exquisite Hamptons estate while also raising money to benefit the Samuel Waxman Cancer Research Foundation.

For more information, call Bridget Stein at 646.398.5270 or Click Here For Website
---
12th Annual "USDAN University" - 'Simple Summer Food'
The 12th Annual one-day adults-only arts camp experience at Usdan Center for the Creative and Performing Arts, once again featured its popular and fun organic cooking class. Taught by renowned Chef Richard LaMarita, this year's edition was called "Simple Summer Food," and focused on the street foods of India, with a vibrant array of high-quality, creative foods from Old Delhi and Mumbai. Held on Friday, July 17th, the day started at 9am with morning coffee and doughnuts, then class, and then a gourmet lunch and concert in the on-site McKinley Amphitheater. The afternoon consisted of recreation including chorus, a nature walk, a campus tour, archery or yoga - and finally, ice cream and a diploma at 3pm!

For more information, call Usdan Center at 631.643.7900 or Click Here For Website
---
Take an adventure on the North Fork of Long Island with a Vintage Bicycle Tour!

Vintage Bicycle Tours specializes in guided, luxury bicycle tours through the North Fork Vineyards of Long Island Wine Country. Travel a leisurely 12-mile route, enjoying scenic views of the Peconic Bay, tree-lined streets, historic landmarks and picturesque vineyards. Indulge in wine tastings and a gourmet lunch.

These tours are held through mid-November.
---
Authentic,Artisanal Pizza On Long Island
Artisanal Pizza is pizza as nature intended it – expressive, natural, flavorful and intimate. At Red Tomato in East Norwich you'll find fresh, authentic, Neapolitan style pizza that will excite your taste buds with just one bite. The pizza depicted here is a true representation of how pizza is served overseas in Italy, freshly baked for roughly a minute and a half in a wood fired oven filled with cherry, oak & hickory woods. Everyone is treated and fed as if they were family at Red Tomato. This eatery is the newest venture from the Messina Family, who also own and operate Messina Market, La Bonne Boulangerie Bakery, Girlfriends clothing store (located in the same shopping center as Red Tomato), Dortoni Bakery in Levittown, Messina Market Express in Manhasset and La Bonne Boulangerie in Port Jefferson. The patriarch of the Messina Family is Napolitano Raffaele "Lello" Messina and he, along with sons Corey and Donnie and longtime friend Chuck Berg, added pizza to Messina's expanding empire just a few months ago. Here they use only the freshest organic ingredients of the highest quality imported straight from Italy to provide patrons with an exceptional dining experience. Click Here For The Entire Review
Red Tomato: 6245 Northern Blvd East Norwich, NY 11732 516.802.2840
Website: Red Tomato
---
Long Island Food Critic Reviews Main Street Bakery On Food Network's, "Fat Chef"
Premiering Thursday, January 26th at 10PM, Food Network's highly anticipated new series, "Fat Chef" features professional chefs as they shed a significant amount of weight while keeping the jobs they love in the food industry.
With the help of the nations top nutritionists, trainers and life coaches, overweight chefs re-examine their relationship to food, both on and off the job and learn how to lose weight and live a healthier lifestyle. The premiere episode of "Fat Chef" features Long Island's very own, Michael Mignano, chef/owner of Main Street Bakery, who lost 100 pounds throughout the course of the show.

We challenged Michael to create four desserts, three popular holiday items and one dessert representative of the New Year. He had 24 hours to complete the challenge and his creations definitely met our expectations, especially with such short notice. Michael's desserts are fresh, tasty and inventive and his self-taught talent is worthy of much praise.
Click Here To Read Michael's Review Featured On Food Network
---
Starbucks Via Ready Brew Instant Coffee
Starbucks Via Ready Brew Instant Coffee was introduced last year and since then has been making fresh, delicious Starbucks coffee available for customers who are traveling, dining or merely on the go. It offers the perfect single-cup portion of coffee and is 100% sensibly grown and ethically traded.
The convenient little packets provide individual servings for your standard eight-ounce cup of coffee. Starbucks natural method of roasting and grinding the coffee creates superfine grounds that sleekly fit into the packaging.
Starbucks Via Ready Brew is extremely convenient and easy to prepare. You can drink it with hot or cold water and it is available in a variety of flavors including Columbia, Italian Roast and Christmas Blend just in time for the holidays. It is the perfect accompaniment to your holiday travels and allows you to enjoy your favorite cup of fresh brewed Starbucks Coffee on the go.
For More Information Visit Starbucks Website
---
The Well Dressed Food Company, Owned and operated by David Tomberlin, is based out of Tupper Lake New York. Their products are produced using local ingredients, which supports local businesses. They use only the finest natural ingredients to make their foods that are versatile and satisfying for every occasion. Whether you pack their Adirondack Crunchy Granola for a hiking trip or serve Walnuts in Buckwheat Honey over brie at your next gathering, the Well Dressed Food Company offers the very best of the North Country for your eating and entertaining pleasure.
For more information visit Well Dressed Food

---
Small Plates With Big Flavor!

The term tapas originates from Spain and translates to, "small plates." Found in bars and restaurants throughout Spain, tapas are now becoming popular in the U.S., showing up on numerous menus across Long Island. In Spain, tapas generally serve as an entire meal, however in the U.S. they're considered more of an appetizer to enjoy with a drink at the bar or before your main course.
Aperitif Bistro in Rockville Centre is well known for their award winning tapas selection. They have an assortment of small plates available during lunch including Sweet Meatballs in a coconut curry sauce, Steak Tartare with capers and cornichons and French Onion Soup. Their dinner menu offers a larger range of tapas with choices such as Smoked Salmon Rolls with sour cream and tobiko caviar, Zucchini Pancakes with a yogurt sauce and a scrumptious Camembert Fondue.
Grasso's of Cold Spring Harbor recently introduced their fabulous new bar menu featuring an array of delicious tapas. Their bar menu is available Sunday through Friday and is ideal for those looking to relax and enjoy a quick bite along with drinks and great live music. Small plate selections found at Grasso's include a Seafood Stuffed Artichoke Heart with lobster, crabmeat and shrimp, Pulled Pork Quesadillas with monterey jack cheese, pineapple salsa and a chipotle aioli and a Warm Crab Mornay Dip featuring lump crab meat, swiss and fontina cheese and cayenne pepper. You'll even find the classic Pigs In A Blanket on the menu!
Tapas have become the favorite course for many Long Islanders. They come in many forms, can be simple or elegant and continue to grow in popularity as time goes by. Be sure to stop by Aperitif Bistro and Grasso's and sample two tapas menus worthy of much praise!
Aperitif Bistro: 242 Sunrise Highway Rockville Centre, NY 11570 - 516.594.3404
Grasso's: 134 Main Street Cold Spring Harbor, NY 11724 - 631.367.6060