Chef George Apanasevich
Working under the tutelage of noted Chef Claude Nouaillon in Belgium, Chef George has brought his familiarity with classical French cuisine from coast to coast. He has been the Executive Chef of the Hyatt Regency Long Island, voted #1 in 2007 by Newsday,
for 10 years.

Chef Joseph Balbo
Joseph Balbo, formally of the Babylon Carriage House, recently opened his own place, Trattachino in Wantagh. His organizational skills and creative cuisine brought him the outstanding Chef's Award in 2004. Joseph Balbo began his culinary career on Long Island. In 2002 he began his culinary education at New York Institute of Technology and received his Associates in Culinary Arts in 2004. Following this he took a position as chef de cuisine at Passion Fish in Woodbury. In 2006, Balbo decided to gain some cultural culinary experience and headed to Calabria, Italy and attended The Culinary Italian Institute. While attending this culinary school, he worked with several Michelin rated chefs and master chefs and sharpened his skills with a special emphasis in Italian techniques.


Chef Brian Burner
Brian Burner, formally of Blackwells, is the Executive Chef and Proprietor of Brian Scotts American Restaurant in Miller Place. He comes to Brian Scotts American Restaurant with a background of having trained at the Culinary Institute of America. He has cooked in several top restaurants in Manhattan and Long Island.




Chef Anthony Cambria
Chef Anthony Cambria Jr. studied culinary arts at Johnson & Wales College, Providence, Rhode Island. He launched his career at the Marriott Marquis in Times Square and then the Royce Carlin (which later became the Huntington Hilton.) He gained great success as a chef for ten years before deciding to open up his own restaurant - Bella Vita City Grill. Building on this success was recognition from Zagat and Wine Spectator for distinction in food quality, service standards and wine selection. In fact, his restaurant Bella Vita City Grill has been awarded with the Wine Spectator Award of Excellence many times. Also, the Long Island Chapter of the New York State Restaurant Association named Bella Vita City Grill "2002-2003 Restaurateur of the Year."


Chef John Catalanotto
Chef John Catalanotto has been with Palmer's American Grille in Farmingdale since the summer of 2005. His training at the Culinary Institute of America and the LaVerene Cooking School in Paris, France combined with his delightful personality make Chef John an inimitable asset to the restaurant. His extraordinary sense of taste and desire to please the palates of all who visit Palmer's makes John's inventive recipes simply one of a kind.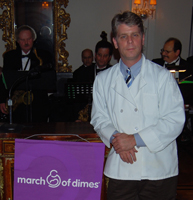 Chef Lance Kindberg

Schooled in the ways of the kitchen by his father, his love and appreciation of good food developed into a serious career path. Chef Lance has been in restaurant management for over 20 years and has worked along side many talented chefs in fine dining.

Building on a love and passion for great food, he sought to bring a more personal application of his skills to life. As owner and executive chef of Prestige Personal Chef Service he caters to his clients needs by bringing the restaurant experience into their homes.


Chef James L. Knowles, Jr.
With over 25 years experience in the culinary arts, Chef Knowles is a new comer to the Long Island Restaurant scene. Recently relocating from Montgomery Alabama, James just opened J.D. Page's Family Restaurant in East Islip this past October.


Chef Jason S. Kuebler
Increasing Long Island's level of culinary excellence and knowledge since 1998, Chef Kuebler has been creating innovative specials and regional wine dinners at Pasta Pasta of Port Jefferson. Jason is a graduate of New York Institute of Technology Culinary Academy and a member of the American Culinary Federation.

Chef Brendan Malone
Chef Brendan Malone is the Executive Chef at Baldino's Restaurant at the Marriott Residence Inn in Plainview. From as far back as he can remember, Brendan has been cooking with his parents. He was educated at the SUNY Delhi College of Technology and has been in the hotel, banquet and catering businesses for over 14 years. He is extremely creative when it comes to seasonal menus and desserts and is highly influenced in Island spice. Prior to working in the kitchen at Baldino's, Brendan worked at the Smithtown Sheraton, Marriott Uniondale, Harrison House and the Village Club of Sands Point.

Chef John P. Montgomery
Twenty-three years as an Executive Chef, John is responsible for rebuilding and opening his own restaurant Sea Levels two years ago in Brightwaters. After graduating Johnson & Whales University, he studied abroad at Roger Verge, Moulin de Mougins, Mougins, France.

Chef Tom Schaudel

After graduating from the Culinary Institute in 1973 and working in various restaurants, Tom opened his first restaurant, Panama Hatties (Huntington) in 1983. He has since been the driving force behind such acclaimed restaurants as Spring Close House (East Hampton), Downtown Grille and Wine Bar (Montauk), 107 Forest Avenue (Locust Valley), Lemongrass (Roslyn), Coolfish (Syosset), Thom Thom (Wantagh), Rockfish (Huntington), Angelfish (Long Beach), Passionfish (Westhampton Beach), and the Mansion at the Woodlands (Woodbury). Growing up on Long Island has seriously influenced Tom's culinary sensibilities and his style has been described by Michael Todd of Grapezine Magazine as "Atlantic Rim". At the Inn he combined classical technique with the best produce, fish and game the north fork has to offer. Tom and Chef de Cuisine Michael Ross have created a series of menus paired with Long Island wines, and a series of guest chef dinners and special events. Tom also has his own line of wines under the Tom Schaudel "Reserve" label, made here on the North Fork and served at the Inn. He has been featured on such television shows as Gordon Elliot's Door Knock Dinners on Food Network, Chef's Night Out on Metro Channel, and has been a frequent guest chef on Long Island's own Channels 12 and 21, The James Beard House in New York City, and Ed Lowe's Morning Show. Tom is also a published author. His book,
Playing With Fire: Whining & Dining on the Gold Coast, is a must read for all "foodies" and is now available for purchase.

Chef Brian Shuren
Designing upscale menus, managing staff and overseeing banquet functions and a restaurant business which can accommodate up to 1,500 people keeps Chef Shuren quite busy. Brian has been executive chef for East Wind Caterers since 2005 and also is a mentor of students in the Suffolk County Boces program and local culinary schools.



Chef Mitchell SuDock

Executive Chef /Owner Mitchell SuDock, of Bistro M Restaurant in Glen Head, oversees every aspect of the daily operations of the restaurant including ordering, hiring, training and managing of staff.

Chef SuDock develops and creates seasonal menus including a la carte, party and catering menus.

Chef SuDock formally developed menus for Mirabelle Restaurant in St James, Judson Grill Restaurant in New York City, and Blue Star Restaurant in New York City.

His training began at The State University of New York where he received a Bachelor of Science in Economics.

From there he proceeded to study at The Culinary Institute of America where he received his AOS in Culinary Arts in 1993.


Chef Jerry Suppa
It has been six years since Chef Suppa opened Butterfield's in Hauppauge and life has been non-stop since. In addition to his participation in numerous competitions and charitable events, in February 2007, Jerry opened Sweet Thyme Café in Huntington Village serving gourmet lunches, specialty coffees, teas, homemade pastries and desserts.