Brian Scott's American Restaurant
90 North Country Rd
Miller Place, NY 11764
631.331.4848
Hauntingly Fine Fare & Spirits Too
A scenic drive on North Country Road in Miller Place will bring you to Brian Scott's American Restaurant. This restaurant is not only nestled among miscellaneous historic national registries of Miller Place but is accommodated in the Daniel Miller House, which has been standing since 1824. Directly across the street is Daniel Miller's father, John's home – the founder of Miller Place. The area is charming and quaint with an interesting historical background.
Chef and Proprietor, Brian Burner, opened the doors of Brian Scotts American Restaurant in November of 2008 at the height of our economic turmoil. His decision was influenced by his personal connection to the establishment. After all he previously worked at this location when he was 19 years old – his first real job, which served as the catalyst for culinary school. It was quite easy to walk in and begin operations, as Brian already knew "how to fall down the stairs."
The structure of the restaurant carries a lot of history as it has been around since 1824. Brian even had a few good ghost stories to share with our table. The self standing building looks like an older modest home behind a white picket fence from the street. The interior is a direct reflection of its historical affiliation. Upon entrance you feel transported to an old country scene.
Thick wood beams appear to support the roof structure, and doorways are decorated with long red velvet curtains. The bar area is on your right after walking through a small foyer and a lounge area with comfy leather couches. White lights are entwined within the wooden ceiling beams and decorative short twigs. The entire bar has a marble countertop and an overall cozy and comfortable atmosphere is created.
As you venture further into the restaurant you will notice a small dining room with four tables on the left side. The walls of this room are adorned in black and white historical photos. Immediately before entering the main dining room you will notice additional seating near the bar on the right, and opposite a cozy "love nook." This special area is a converted wine cellar with one special table for the romantic couple. The main dining room has a faux fire place in one corner with mirrors and candles mounted on the mantle area as well as charming paintings and miscellaneous antique relics. In the background, a wide range of music fills the air. We heard everything from songs of The Rolling Stones to Italian Operas. Brian believes the variety of music makes the restaurant "more American."
The entire establishment was charming beyond belief as was the wait staff. We were served by Rachel, who had previously worked with Brian at Blackwells. She was extremely polite and had a good working knowledge of the menu, daily specials, and the vegetarian options featured every evening.
Brian Scott's offers a variety of Martini options. The Dirty Martini with large gorgonzola stuffed olives was served with Cîroc Vodka, and went down smooth (below center). The Bellini Martini with Ketel One, peach liqueur and champagne was refreshing and tart (below left). Peggy Lee Martini came with Ketel One Citroen Vodka, Banana Liqueur with a splash of orange and cranberry juices, which created an intense citron flavor (below right).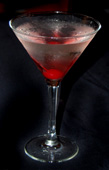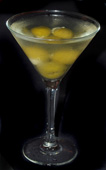 All the meals sampled by us were from the Seasonal Menu. As each new season arrives, so does revised and updated offerings. The specials are changed on a daily basis, and as previously mentioned always offer a vegetarian option.
Our first dish, Butternut Squash Bisque was from the specials menu (below left). The deliciously thick puree was decorated with a few croutons. It had a real natural butternut taste; definitely an option of that health conscious diner.
Our second soup was Uncle Brian's Seafood Chowder (above right). A lovely yellow tinted cream and sherry broth with bacon, carrots, celery, chives, cod, and potatoes was the hardiest and most delicious chowder we had ever enjoyed. Rachel referred to the chowder as a little bit of heaven made with love. There was an excellent amount of flavor and seasoning to this dish with barely any detectable salt. We were particularly surprised of the amount of bits of bacon because in no way did they overpower the dish.
Warm Spinach Salad with sliced mushrooms, apple wood bacon, chopped egg, red onion and sweet potato croutons was another favorite of our waitress (below left). The spinach leaves were evenly coated with the honey Dijon mustard dressing. The sweet potato croutons were a unique touch to the salad and created a nice blend of ingredients.
The Fried Mozzarella en Carozza with roasted garlic beurre blanc was served with a crispy exterior shell that contained the wonderful melted fresh mozzarella (above right). The ensemble was completed with a delicious garlic overture and a slight spice from jalapenos and red peppers.
We then moved onto the Pan Seared Maryland Crab Cake with potato and cucumber salad (below left). This dish had a very colorful presentation with the orange and green sauces surrounding the appetizer. This first course was all crab and no crumb with its light breading and tasted amazingly fresh.
Our next appetizer was one of the evenings specials, Risotto with Shrimp and Andouille Sausage (above right). The risotto was moist and flavorful. The shrimp was tender and diced into great portions for bite sizes. The Andouille Sausage was a spicy Cajun pork sausage, which was super spicy and added an excellent bold flavor to the dish.
Our last appetizer of the evening was the Grilled Baby Lamp Chops with Cusabi Dressing (below left). The meat was incredibly succulent and tender – falling off the bone. The mango provided a great sweetness to the dish, while the lamb had a delicious char flavor.
We began the entrees on a sweet note with the Almond Crusted Flounder with Braised Bananas (above right). This dish was simple with a thin piece of flounder underneath delicious bananas accompanied by white rice, carrots and green beans.
From the specials menu we had the Pepper Seared Tuna with Soy Glaze (below left). Whole peppercorns encased the large portion of tuna, which was presented with a small seaweed salad, long grain rice and two sauces. The spicy chili paste slaw was an excellent complement to the fish.
Our evening was finished with the Grilled Porterhouse Pork Chop stuffed with Prosciutto, Parmesan and spinach (above right). Accompanying this huge portion was sides of broccoli rabe and mashed potatoes. As if the pork chop wasn't large enough to begin with, it was stuffed with plenty of Prosciutto, parmesan and spinach. The glaze on the chop was delicious and the potatoes were excellent. We would recommend sharing this hearty dish or at least taking some home so you leave room for dessert.
We began our dessert with Tiramisu topped with whipped fresh cream (above). The square layer was just right with its light airy texture and slight hint of mocha with each bite. Frieda's NY Cheesecake with homemade preserved strawberries was Brian's grandma's recipe (below left). This cheesecake was creamy with a sweet whipped topping – homemade perfection. Our last indulgence was the Flourless Chocolate Cake with Vanilla Chantilly Cream (below right). This cake can only be described as chocolate heaven; a must for the chocoholic.
Brian Scott's American Restaurant is the ideal "American favorite" with reasonable prices, generous portions, great selection, in a casual and comfortable atmosphere. It's the perfect place for a great meal without spending too much with the possibility of some leftovers. Half orders of pasta are offered, and all dinner entrees (including full pasta plates) come with a no charge salad.
Brian informed us that the outside patio area is open in the warmer months and live music is featured every Friday evening. Be sure to stop by whether it's for a quick casual bite, a cocktail, or a romantic dinner in the love nook. And if you are feeling brave, ask Brian or your server about the various reported hauntings at Brian Scotts American Restaurant.
Overall Rating: Terrific

Cuisine: American

Ambiance & Décor: Elegant & Engaging

Prices: Lunch $8 - $15, Dinner $10 - $25

Website: Brian Scott's