Page One Restaurant
90 School Street Glen Cove, NY 11542
516.676.2800
Gastronomically Astronomical
Page One Restaurant is casually elegant while providing an upscale dining experience right in the heart of Glen Cove. Step foot inside this eatery and you will feel right at home with their warm ambiance.
Chef Jeanine DiMenna shows an obvious pride in ownership as well as presentation. She won first place in the "Gold Coast Chowder Contest of 98" as well as the "Toast of the Town" Award two years in a row. She is known for her unique foams that are a special touch to her dishes. Her motto is "natural ingredients speak for themselves.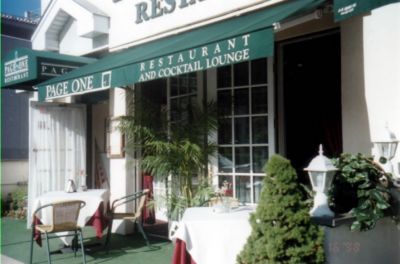 The dining room twinkles with low lights that showcase the multi-level seating areas. In the spring the front doors open for al fresco dining, but in the cold winter months a window seat provides a charming view of the town. Soft comforting music plays lightly against the soft chatter of a full dining room.
The spirits room has cozy tables and ample seating at the bar. When you belly up to the bar you will be greeted by an antique brass rail adorned with ornate elephants. There is a special bar menu that is quite affordable with prices ranging from $7.95-$13.95. Bartender, Ashley, creates a friendly atmosphere by warmly greeting regulars and enthusiastically welcoming newcomers.
Ashley makes an excellent Malibu Martini (above center), which was the perfect pair to our first appetizer. The martini was sweet and refreshing, with tropical notes that complimented our "Florribean Coconut Shrimp. (above right)" Four large shrimp lightly coated with coconut and pan-fried, served with a key lime sweet chili mango glaze were fabulous. The sweet crunchy coconut and the mango passion fruit salsa created the perfect mix of flavor and aroma. The dish is also adorned with her signature plantain chips, which were as pleasing to the eye as to your wallet with an amazing price of only $8.95.
Our first entrée choice was the Hawaiian Style Big Eye Tuna with Wonton Crisps (above left). If you like your tuna rare, then this pan seared creation is a dish you will most certainly love. The tuna is complimented by a ponzu lime teriyaki sauce (above right). It is served with a side of fresh and crisp broccoli and one of Chef Jeanine's renowned foams that added a gentle soy flavor. The plate was also garnished with a wasabi flower for an added kick. This dish paired well with a glass of Riesling.
Our next entrée was a little known special that grew in popularity and has now become a part of their regular offerings. Picture if you will, your very own personal Pork Roast delicately spiced with Cinnamon and Apples served along side mashed potatoes (above). The sweetness of the caramelized apples and onions with the pork creates a wonderful amalgamation of flavors. In addition, their house Chianti complimented this thrilling dish nicely.
Award winning Chef Jeanine DiMenna can clearly create fabulous fine dining choices that impress. However, what was refreshing to see was an affordable menu that brought back the basics we all know and love. This wallet friendly menu included some fine gourmet burgers that are sure to please.
We just had to try the Three Onion Burger (above). This burger was topped with scallions, caramelized onions and fried onions, with a side of golden crispy homemade fries. The sweetness that this medley of onions provided was the perfect companion to the juicy charbroiled beef.
The desserts are all homemade by Pastry Chef Mark. We had the Chocolate Torte (above left) and the Crème Caramel (above right). The Chocolate Torte was not your typical overly sweet mass produced chocolate dessert. So many times you get a chocolate dessert that knocks you over, however, this torte was just sweet enough and brilliantly presented with a sugar sculpture. The flan-like Crème Caramel had a traditional custard consistency.
Page One is the perfect upscale casual dining establishment. Many times when planning a dinner out for a group the organizer may worry if everyone will be satisfied. Page One has such an eclectic menu that there is something for everyone's taste and budget. The ingredients are fresh, the dishes unique, and the superb service create a "Gastronomically Astronomical" dining adventure.
Overall Rating: Excellent

Cuisine: American

Ambiance & Décor: Casual

Prices: Lunch $7 - $14, Dinner $9 - $25

Website: Page One Restaurant