Palmer's American Grille
23 Fulton Street
516.420.0609
Farmingdale, NY 11735

Continental Meets New American

Palmer's American Grille was built on the site of the Fulton Street Pub, which was a hotspot for thirty years. Palmer's American Grille has been conveniently located just North of the Hempstead Turnpike on the corner of Merritts Road and Fulton Street in Farmingdale since December 14, 2005. This restaurant is a casual yet elegant dining experience that's just a quarter mile away from the World Famous Bethpage Black Golf Course in Farmingdale. This eatery boasts of being the closest to the golf course and the premiere restaurant of the surrounding area.
This establishment was the brainchild of a trilogy of well-seasoned (no pun intended) restaurant industry professionals. First we have Anthony Rossi former owner of the Fulton Street Pub and who brings three decades of time-tested experience to the trio. Then there is Bob Gebbia, a former manager and co-owner of the Fulton Street Pub as well as an avid scratch golfer that contributed to the design and golf concept of this restaurant. Finally, there is Ron LaBarbara whose thirty years of experience renovating and building restaurants throughout Long Island brought his knowledgeable vision to this establishment.
Chef John Catalanotto has been with Palmer's since the summer of 2005 and worked with all the owners to design and organize a fantastic kitchen and prep area. His training includes the Culinary Institute of America and the LaVerene Cooking School in Paris, France. Chef John's delightful personality and one of a kind inventive recipes truly make him the star of the show.
The restaurant's décor is warm and comfortable with dark woods and muted colors and influences of golf, jazz, and historical Farmingdale. When we arrived, Palmer's was festively adorned with autumn décor throughout. Glowing candles were surrounded by vibrant leaves with faux apples and pumpkins. The restaurant is large enough to cater an event, yet small enough to have an intimate dining experience. There are two dining rooms, a spirits room, and a semi-secluded outdoor patio area. The dining areas were constructed in such a manner that you are unable to hear noise from the other. The Lenox Dining Room has doors adjoining it to the bar area.
The Spirits Room's wonderful ambiance is due to its mahogany and brick décor with beautiful hand painted carved figureheads and flat screen TVs adorning the bar (below left). The bar provides a lovely atmosphere to enjoy a beverage with friends or to catch a sporting event on the large TV screen. The outdoor patio café area with its festive umbrellas and beautiful flora is perfect for semi-secluded dining or just relaxing with a cool beverage on warm days and evenings.
A unique feature at Palmer's is their gallery hallway. The hallway divides the Powell Dining Room from the bar area and currently features the artwork of Elaine Thompson. Her paintings portray U.S. Open scenes from the Bethpage Black Golf Course.
The staff members at Palmer's were polite and neat in their black attire. Our server, Pat, was very knowledgeable of each item on the menu, and thoroughly answered any and all of our questions. He eagerly provided personal suggestions upon our requests.
Any meal can be paired perfectly with a drink from the wide variety of choices. Martini lovers would appreciate Palmer's Specialty Martini List. The bold colors of each martini brought to our table complemented their bold tastes. The Almond Joy Martini and Passion Fruit Martini were definite hits. The ample wine list included merlots, Shiraz, red zinfandels, Rieslings, chardonnays and many others.
Our spacious corner booth located in the Powell Room was served a basket of warm rolls and focaccia bread while we reviewed the extensive menu. Alongside the basket of bread was a ramekin of honey butter, which was deliciously sweet on the taste buds.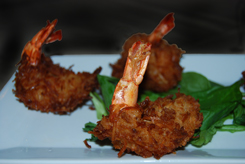 Each appetizer, as well as each dish that followed, was presented in an individual and creative manner. We first tasted Palmer's Coconut Crusted Shrimp (above left). The jumbo shrimp was dipped in batter and rolled in flaky coconut, which was accented perfectly with a mango chutney dipping sauce. The second appetizer, Maryland Lump Crab Cakes (above right), had a wonderful aroma. Each bite was moist and delectable, as the aroma had suggested.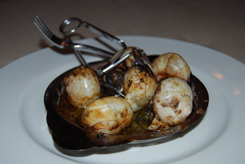 The Escargot Provencal (above left) had a strong garlic overture, and the butter added a slight hint of salt. We were impressed by the cheesy taste of the Baby Artichoke Hearts (above right), which were baked with fresh herbed breadcrumbs, topped with Gorgonzola cheese and drizzled with lemon, white wine and shallot butter.
Our fifth appetizer tasted was Fried Calamari (above left). The tender sweet calamari was hand dusted, fried and served with an arrabiata sauce. The calamari had a hearty breading that worked well with the spicy sauce. The tasty Mozzarella Caprese (above right) was served with a generous proportion of fresh mozzarella, beefsteak tomatoes, roasted red peppers, and fresh basil. The entire dish was also drizzled with house made balsamic reduction.
Our table sampled two salads from the menu. The Palmer Salad (above left) consisted of baby field greens, caramelized onions, roasted walnuts, sun dried cranberries and Gorgonzola cheese, which was tossed with sherry wine vinaigrette. The sweetness of the cranberries was a perfect combination with the Gorgonzola cheese. The Palmer salad left a pleasant finish in our mouths. The second salad was the Goat Cheese & Toasted Hazelnut Salad (above right), which combined arugula, endive, goat cheese, toasted hazelnuts and raspberry vinaigrette. The ingredients balanced one another very well.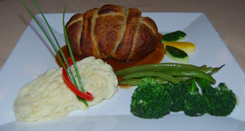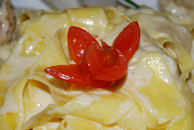 The first entrée served to our table was the Beef Wellington (above left). A grilled filet mignon topped with a mushroom duxelle, wrapped in a puff pastry and served with a brown demiglace. The dish emanated with savory scents. The plate was garnished with zucchini in shapes of leaves, and included mashed potatoes and broccoli. The filet mignon was juicy and tender and melted in your mouth.
Next we tried the Pan Seared Shrimp (above left) served in a Gorgonzola cheese and garlic cream sauce over fresh pasta. This dish had a subtle Gorgonzola taste and complemented the shrimp nicely. Our third dish of the evening was Hazelnut Chilean Sea Bass (above right). It was served over rice, with tomatoes shaped like flowers embellishing the plate. Hazelnuts encrusted the bass, which flaked apart at each stroke of the fork. It was a flavorful seafood dish.
The Chicken Palmer (above left) also provided a tasty experience. The chicken was layered with prosciutto, spinach and fresh mozzarella and finished with a merlot demiglace. The prosciutto provided a nice salty counterpoint for the dish, while the mozzarella added depth. The fresh broccoli and creamy mashed potatoes went well with the chicken. An excellent pasta choice on the menu was the Rigatoni Catalanotto (above right). Sautéed prosciutto, caramelized onions, mushrooms and green peas in a pink sauce was served over rigatoni. The sauce was light, yet full of flavor. All ingredients combined created an extremely appetizing pasta dish.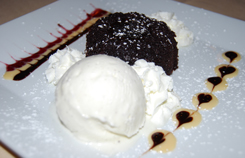 The Banana Foster (above center) only fostered big smiles from its satisfying taste. Served in a red wine glass, fresh whole bananas were sliced and mixed in with vanilla ice cream and hot caramel sauce. This dessert was sweet and delicious. Our second indulgence, the Molten Lava Cake (above left), exploded with chocolate taste. A warm chocolate sauce oozed from the center of the milk chocolate cake. The plate was decorated with hearts sketched into the raspberry, vanilla and chocolate sauces. The whipped cream found on both desserts was whipped to an airy perfection. Our third delight was a slice of Pecan Pie (above right), which could only be described by one
word – perfect. The scrumptious crust and grouping of ingredients created a slice of pie that was not too sweet, but just right for an enjoyable dessert.
All courses were thoroughly enjoyed and left no doubt in our minds that many customers frequently enjoy this establishment. Each dish tasted as great as it appeared on the plate. While you have been provided with an excellent representation of Palmer's American Grille's menu, there are many other options listed under appetizers, salads, and entrees for you to try yourself. The widespread choices at Palmer's American Grille will provide anyone with an appetite an option for dinner. And be sure to save room for dessert!

Overall Rating: Outstanding

Cuisine: New American / Continental

Ambiance & Décor: Warm and Elegant

Prices: Lunch $9-$23 - Dinner $16-$29

Website: Palmer's American Grille
© All Rights Reserved Expo Sure USA Inc. Trademarks are the property of their respective companies.