Rothmann's Steakhouse
6319 Northern Blvd.
East Norwich, NY 11732
516.922.2500



Great American Steakhouse With A Side Of Fanfare
Located in the exclusive enclave that is East Norwich resides a quintessential classic American steakhouse. This remarkable restaurant has the elegant style and grace of an authentic Long Island Gold Coast Mansion. Step into Rothmann's Steakhouse and step back in time to the grandeur and tradition of Long Island's famed Gold Coast where food, drink and life were rich and satisfying.
Rothmann's Steakhouse has quite a fascinating history that began in 1907 when Charles and Franziska Rothmann invested their life savings in their dream of opening an inn and tavern bearing their name. That dream became a reality in East Norwich on Long Island, where Franziska's wondrous cooking and Charles' welcoming charm attracted a loyal following of notable politicians and socialites, including local resident Theodore Roosevelt.
Years later, Franziska's and Charles' children upheld their parents legacy by continuing the Rothmann's reputation that attracted such celebrities as Bob Hope, Richard Burton and Elizabeth Taylor. As you may know, in 1970, world-renowned singer and songwriter Burt Bacharach purchased Rothmann's. This restaurant that bore his name stood for many years until it was once again renamed "Rothmann's"
When you enter this steakhouse you come across a nicely appointed spirits area that will prove difficult to pass up. In other words, you will want to start your evening with a world-class cocktail at the bar. There is quite a selection of cocktails and wines to choose from. As a matter of fact, their extensive wine cellar earned them "The Wine Spectator" Best of Award of Excellence.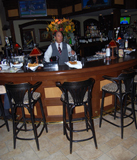 We began our dining experience with Rothmann's Shellfish Plateau for Two, which was a beautifully presented medley of the highest quality seafood available (below left). This exquisitely presented, bi-level tower consisted of Shrimp, Clams, Oysters, Lobster and Maryland Crab Meat. The shrimp were colossal, plump, tender and firm. The clams and oysters were genuinely fresh and the oysters in particular were sweet with abundant liquor. The lobster was served halved, cocktail style, which retained its natural flavors and made it very easy to consume. The Maryland crabmeat was lump and garnished with giant capers and perhaps the most standout item featured in this appetizer was the Tuna Cerviche, which was just exceptional.
Next came a Jumbo Lump Crab Cake, which featured a moist and tasty filling and an exterior that was golden to perfection (above right). This tall crab cake had unbelievable flavor, was garnished with a chiffonade of sun-dried tomatoes and sat atop a bed of thinly sliced lemons.
The Braised Kobe Short Rib is truly an outstanding appetizer (below left). Served with smooth, wasabi mashed potatoes and frizzled onions, the meat was extremely succulent and we were really in awe with the delicious flavoring.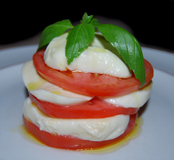 We continued with the Warm Homemade Mozzarella and Beefsteak Tomato appetizer, which was beautifully presented Napoleon style and superbly fresh (above right). The hand pulled mozzarella cheese was incredible and when combined with the super ripe tomatoes, was even better!
Our final appetizer was the Tuna Tartar topped with an avocado spread, paper-thin pickled ginger, seaweed salad and orange roe (below left). Dollops of wasabi and soy sauce were offered for dipping, creating an all around light and refreshing starter.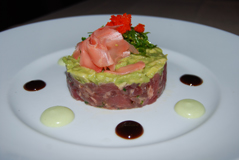 Our first entree was the Miso Glazed Sea Bass, which was tender beyond belief (above right). It cut with just a light touch of a fork and the miso glaze was an outstanding additive.
The 35-Day Aged Steak is a culinary homerun. (below left). This specialty entrée presents one of the finest steaks of recent memory. The steak was tender, juicy and downright incredible!
Rounding out our entrées was the delicious Porterhouse Steak (above right). This incredibly flavorful, classic porterhouse for two was fine and true to form.
For dessert we were privileged to sample four incredible treats beginning with a warm Chocolate Molten Cake (below left). Served with a scoop of vanilla ice cream, the cake was very rich in flavor, deeming this dessert a true chocolate lovers dream.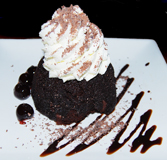 Another dessert that's rich in chocolate is the Black Forest Cake topped with fresh whipped cream and served with a side of black cherries (above right). The cake was overflowing with chocolate morsels and the candied black cherries were just amazing.
We ended with some Banana Cream Pie and Key Lime Pie. The Banana Cream Pie was appealingly presented and full of delicious banana flavor (below left). The Key Lime Pie offered a robust key lime flavor, was nicely tart and the graham cracker crust was a delight (below right).
If you're looking for an elegant restaurant that offers a cozy, friendly atmosphere, look no further than Rothmann's Steakhouse. The superb food, engaging wait staff and extensive wine list are just a few of the many reasons you should stop in when in the area. It is a sophisticated steakhouse with something for everyone!
Overall Rating: Superb

Cuisine: American Steakhouse

Ambiance & Décor: Sophisticated & Elegant

Prices: Dinner $26 - $168

Website: Rothmann's Steakhouse