La Famiglia
641 Old Country Road
Plainview, NY 11803
516.938.2050



Family Style With Old World Romantic Charm
La Famiglia Restaurant, located on Old Country Road in Plainview, also has another location on West Main Street in Smithtown. When we first arrived, at the Plainview location, we were greeted by a courteous valet that did not miss a beat. As we entered this eatery, we were pleasantly surprised by the Italian aromas wafting through the air.
Soon after entering we noticed the richly appointed spirits area complete with a fine red imported Italian marble bar. This bar area (below left), replete with flat screen TV, was the perfect cozy spot for a pre-meal aperitif or an after dinner nightcap. We then made our way into the dining area (below right) that was decorated with faux finishes and old world accents. The place was adequately lit and the seating was quite comfortable. Beyond our dining area there were also two additional rooms that would be ideal for private parties.

This restaurant was perfect for a cozy dinner for two, a family affair, or a corporate function. And we must add that the wait staff easily adapts to all types of guests. For example, when our tasters went to dinner, seemingly on a date, the wait staff made certain that we were treated accordingly. When we went as a group, service was just as good but geared toward a larger party. We also noticed that the staff will be quick to portion the family style platters for you. La Famiglia is certainly ready for all situations.

We started our meal with Portobello mushrooms (below left) stuffed with spinach, roasted peppers, fontina cheese, goat cheese, in a light white cognac cream sauce. This dish was spectacular with complex flavors and finished with a hint of cognac.
Next we tried the calamari (above right) in a white wine garlic reduction that was fresh and tender with a beautiful aroma. We also sampled their house made fresh mozzarella that was incredibly soft and creamy with great flavorful roasted peppers (below left). Their baked clams (below right) were very good and not buried in bread crumbs, while their clams casino were right on the money.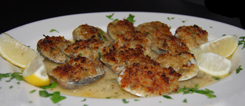 We also tried the stuffed artichoke heart appetizer that was beautifully plated. It had a rich zesty lemon flavor and was overstuffed with baby shrimp, crab meat and baby lobster tail meat. The ratio of seafood stuffing to bread crumbs was quite generous - perfectly balancing the two.
First off, we had braciole, made on premises that was simply out of this world. They would not share their secret family recipe, however we could easily discern that it was stuffed with pignoli nuts (pine nuts) spinach and a medley of spices and cheeses.
The orecchiette with broccoli rabe was very rich and buttery while the accompanying pasta was cooked to perfection. The broccoli rabe was just soft enough, and the buttery flavor of the pasta was not from butter at all, but from the fact that this was homemade pasta perfectly prepared.
The Chicken Zingarella (above left), which translates to little gypsy girl, was served with sun dried tomatoes, artichoke hearts, roasted peppers, roasted garlic, and fresh basil. The chicken was incredibly tender, the peppers were house made like momma used to make - in a wine sauce that was tasty and flavorful.
Another favorite was the Chicken Scarpariella (above right) which was tender and flavorful. You could taste the medley of rosemary, fresh parsley, cherry wine, & vinegar. The one flavor that caught us by surprise was the bay leaf we found out was also used yet nowhere in sight.
Another item, not to be missed, was their Linguine with white clam sauce (above left). The pasta of this dish was perfectly al dente and soaked in the mouthwatering clam sauce. Each strand of linguine was accompanied by roughly chopped whole clams and roasted garlic.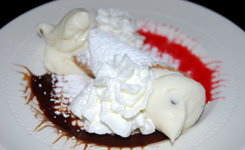 When it came to dessert, they provided us with some wonderful selections. The standouts were the house made Cannolis (above left) and the authentic Italian Cheesecake (above right). What is also quite notable is their selection of after dinner and dessert libations. For example, we tried a Cappuccino Martini with whipped cream that was truly wonderful.
In a nutshell, this restaurant is quite versatile, affordable, and accommodating. They are quick to cook items to your specifications and dietary needs as well as adept at setting the tone for any type of occasion. This eatery definitely spoils local residents, but is also worth the trip if your not from the local vicinity. With locations in both Nassau and Suffolk, La Famiglia has Long Island covered from East to West. La Famiglia is an upbeat, friendly, family style Italian Restaurant that is perfect for all your dining needs.
Overall Rating: Excellent

Cuisine: Northern & Southern
Family Style Italian

Ambiance & Décor: Old World Charm

Prices: Lunch & Dinner $12 - $30

Website: La Famiglia