Walls Wharf
18 Greenwich Avenue
Bayville, NY 11709
516.628.9696
Nautical Elegance On The Sound

If you are looking for a fresh and exquisite dining experience, Wall's Wharf in Bayville is your final destination. Wall's Wharf has been serving fresh seafood dishes, along with many other options, for over fifty years in the historic town of Bayville. For those of you unfamiliar with the Western North Shore of our island, Bayville is located directly west of the Lloyd Harbor peninsula and north of Oyster Bay Harbor. Wall's Wharf is situated on the end of Greenwich Avenue in the last building on the right overlooking the Long Island Sound, which creates a magnificent setting during all four seasons.
Wall's Wharf is owned by the Reinhardt Family and has been pleasing guests for over fifty years. Dale Michishima is the head chef at the restaurant and the man behind the fabulous food offered here.
Every seat at Wall's Wharf has an admirable scenic view of the Long Island Sound; whether it be beside the wood burning stove in the bar area during a winter evening or a summer sunset from a dining room table through the bay view windows. Upon entering the building, the nautical themed bar area is to your immediate left. The wall on the left side of the bar had port holes for windows and the windows directly behind the bartender look out on to the patio area overlooking the Long Island Sound. Each table in the lounge area had an authentic lantern to shed some light for patrons. A large boat anchor, as well as other nautical themed items, decorated the walls. During our visit, we could tell many locals frequent the restaurant as just about everyone seemed to know one another by first name.
The dining room, which is directly down a short hallway as you enter Wall's Wharf, is decorated in natural tones. Beige tablecloths cover each table and are accented by a seasonal floral arrangement. On each table there was a vase of orange and purple flowers with a variety of green leaves. The reoccurring nautical theme appeared in the sailboat paintings found on the walls of the dining room. A fireplace, which burns during the winter, is located on the farthest wall from the beach. A homegrown rose garden is planted directly beneath the bay view windows of the dining room and instrumental background music creates a relaxed ambiance.
Wall's Wharf can also cater to any special occasion. Whether you are interested in a buffet style dinner for 120 people or would prefer a sit down event with 140, Wall's Wharf can provide excellent food accompanied by a beautiful water view.
While waiting for dinner, a basket of sourdough bread was brought to our table along with a small bowl of olive oil, seasonings and black olives. The soft and crusty bread was served warm and was deliciously accented by the dipping sauce.
While we enjoyed our dinner, we sampled a 2007 Ferrari-Carrano bottle of Fumé Blanc Sauvignon Blanc from Sonoma County. Our palates were enticed by luscious fruit flavors, pineapple, kiwi, grapefruit and fig with hints of guava on the finish. It went extremely well with our seafood courses.
Wall's Wharf has seasonal winter and summer menus. Each menu strongly caters towards its designated season. The kitchen staff becomes more creative during the winter months in preparation of their favorite busy season. As we learned firsthand, any plate served at Wall's Wharf is nothing short of exceptional.
If you love Raw Oysters, the ones served at the Wall's Wharf are exceptional (below left). Top one off with flavorful cocktail sauce and a little Tabasco and slurp away. This appetizer is a must have summertime delight!
Next we sampled a row of crunchy Fish Tacos, which was a fun, Asian-style dish (above right). They were filled with a moist, refreshing seafood medley of spicy tuna, seaweed salad, chili sauce and wasabi aioli. All ingredients were cradled in a crispy shell, which made for a satisfying combination of textures.
Meaty Lobster Salad with fresh fruit and vegetables was served over parchment thin strips of cucumber (below left). This light, health conscious starter was tasty and quite refreshing.
To spice things up we were treated to the Firecracker Shrimp, crisply coated in a sweet chili sauce that produced a definite bang of heat (above right). The shrimp were topped with a sprinkling of soy cashews, which were a great way to compliment a spicy ingredient. The side of mouth-watering Asian inspired slaw was an impressive and unique creation. We went back and forth from shrimp to slaw until everything on the plate was gone which means this dish was a great success.
The Roasted Pear Salad is a perfect palette cleanser (below left). Tender slices of pear, goat cheese crumbles, frisee lettuce, were lightly dressed in a port wine reduction. The sweet pear and rich, tangy goat cheese make a tantalizing experience for the taste buds and thoroughly prepared us for our flavorful entrees.
Our first course was a special containing an elegant assortment of Alaskan King Crab, Lobster Tail and a Jumbo Lump Crab Cocktail (above right) accompanied by a lemon wedge and a tall shot glass of house made cocktail sauce. The superb Alaskan King Crab meat was completely removed from its shell and contributed nicely to the overall presentation. The lobster tail was over 10 ounces and delivered wonderful flavor. The absolutely delicious Jumbo lump crab cocktail was presented in the rind of half an orange. The introduction of a nice hint of orange flavor to the exceptionally fresh crab made it refreshing and satisfying. The entire dish was very crisp, clean and simple. The halved orange was the perfect accent to this special, and the overall presentation was excellent. It was a great special that offered a nice variety of seafood.
Next we enjoyed Homemade Cavatelli Pasta (below left). The pasta and fresh tomato sauce was served in a parmigiano reggiano baked shell topped with shavings of fresh grated parmigiano reggiano cheese. We were impressed as this dish is rather labor intensive as the baked parmigiano reggiano only has a thirty second window to be molded into the shape of a bowl. The pasta was homemade with flour and eggs, which was simply delicious with its modest ingredients. The tomato sauce was made from (sapareizto) pomodoro tomatoes, which are low acid tomatoes grown in California. The contrast of fresh and baked parmigiano reggiano cheese created a unique contrast of flavors and this robust pasta dish was immensely enjoyed by all at the table.
The Rack of Lamb (above right), was simply unbelievable. It was a nice rack prepared to represent a petite crown roast. The presentation of the dish was our first tip on how incredible this meal would be. The medallions of lamb were arranged in a circular shape around a mound of mashed potatoes and the extending bones of the lamb held the swiss chard with a baked carrot chip adding color and height. We immediately questioned the sauce as it was too good to be true and found that the sauce was merely from the same pan of the lamb. The tender medallions of lamb melted in our mouths. The mashed potatoes were finished to a perfect creamy texture and the swiss chard had a bitter taste similar to spinach, which was a great complement to the meal.
We continued with the perfectly prepared Pan-seared Halibut (below left) with roasted plum tomatoes, steamed spinach and a citrus drizzle. Tender, flaky pieces of fish filet melted in our mouths and surely left a smile on our face. The other star of the show was the slow roasted tomatoes that would make any farmer proud.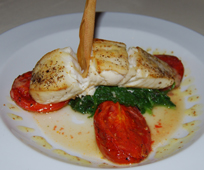 Our last entree before dessert was a tender round of filet mignon (above right). This meat was like butter, cooked to ultimate medium rare perfection. It's soaked in a flavorful red wine demi sauce and was served along side seasoned string beans and a heap of homemade mashed potatoes.
To finish the evening on an even higher note we devoured a Cherry Creme Crown (above) for dessert. It was an artistic combination of lady fingers, fresh berries, chocolate sauce, cream and free-forming sugar and was a sweet and delicate option for dessert with a very "homemade" feel and taste. We thoroughly enjoyed the fact that it was not a heavy dessert, and more on the light side.
The beautifully plated Dark Chocolate Ganache was absolutely incredible (below left). This chocolaty delight was so decadent and fudgy it could bring tears to your eyes. It was complete with a side of sliced strawberry and topped with whipped cream and a swizzle stick of white and dark chocolate.
Our last dessert was the Apple Cobbler (above right). This classic favorite presented warm sliced apple covered with a chewy and crisp topping of granola. Each heavenly bite was a heartwarming sensation, cooled off by the large round scoop of vanilla ice cream on top. Textures, flavors and temperatures united and pretty soon we were at the bottom of the dish, scraping for every last morsel. This was a great ending to a great meal!
The quality of food at Wall's Wharf was exceptional. Clearly the kitchen exercises and executes its creativity with each meal. Not only does this restaurant offer great food, but it also has a fantastic water view. Wall's Wharf is the perfect place for a quick bite at the bar or a romantic dinner for two. During the warmer months, Wall's Wharf is an excellent option after a relaxing walk on the beach or a stroll through charming Bayville. Be sure to stop by for a sunset and a delicious dinner – it's worth the trip!
Overall Rating: Excellent

Cuisine: New American Seafood

Ambiance & Décor: Nautical Elegance

Prices: Lunch $9-$19, Dinner $21-$40

Website: Wall's Wharf